BMW 3 Series (E36) 1992-1997 - 500 Series Super Low Spec Coilovers
BMW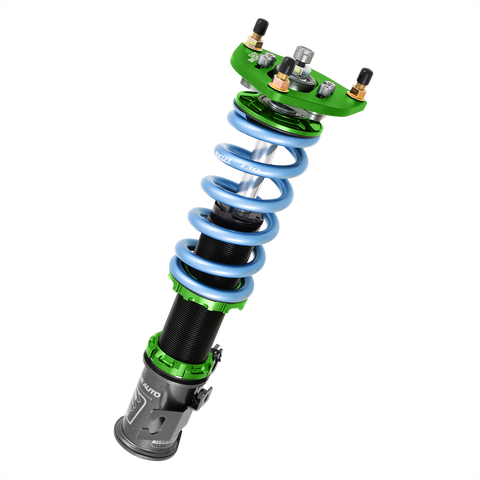 CUSTOM. MODULAR. REBUILDABLE.
Designed and assembled in the USA.
Fortune Auto engineers collaborated with the experts at Broadway Suspension to offer specialized valving profiles and optimized specifications.
The Super Low Spec 500 Series coilovers are designed to dramatically lower vehicle ride height. Average height adjustability is roughly 2.5" to 5" lower than OEM ride height (depending on application). 
Swift Springs Standard, Hyperco Springs substitute if necessary

FA Synthetic Shock Oil

Flow Digressive Piston Technology™

Custom Built and Dyno Tested

5 Year Limited Manufacturer's Warranty

24-Step Adjustable Dampers

Monotube Damper with High Pressure Nitrogen

T6 6061 Aluminum Mounts and Camber Plates


Rebuildable and Revalveable at our Facility in Richmond, VA

Modularity – Upgradeable to 2-Way or 3-Way Canister
Everyday Driveability
Research on the racetrack has helped us develop the Fortune Auto 500 Series into a great all-around shock absorber. Using high quality components that meet our strict standards allows us to optimize comfort, reliability, and longevity. 
Occasional Track Use 
Digressive piston technology allows for stiff low-speed compression/rebound force. This gives more control of driver inputs such as roll, dive, and squat. However, at fast stroke speeds (i.e. high speed bumps) the suspension becomes supple in response to bumps and irregularities in the road for maximum control.
500 Series Coilovers are custom, hand-built to order. Most applications have a 2-4 week lead time. Lead times for certain applications and peak season orders may vary.

Limited spring rate options listed, if you have other custom spring rate preferences, please contact us at  877-227-0260 or email us at sales@fortune-auto.net. 
---
More from this collection