Service
Fortune Auto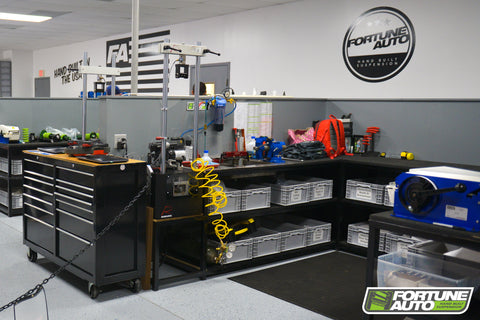 Turnaround time will vary with each service order and will be dependent on the work and components needed as well as the overall condition of the parts sent in.

Partial disassembly of each shock prior to shipping is encouraged as this will help tremendously with turnaround time. If components such as locking rings, spring perches, and/or springs are in good working condition, please remove them before shipping.
Fortune Auto offers a full in-house Overhaul Service package for Fortune Auto coilover owners. This process includes a t
horough safety and performance inspection of the dampers followed by our meticulous rebuild procedure by Fortune Auto technicians to bring them back to original tolerances. All coilovers will be
dyno-tested and matched to rigid specifications to ensure consistency and quality control. The Overhaul Service includes repairs and replacements if necessary, however, optional upgrades are not included in the service.
Custom revalve option is also available for those that would like to pair their Fortune Auto coilovers with a different spring rate than original valving.
Overhaul Serviced coilovers will carry a 1 year warranty from the date
of service.
How to:

 Fill out information form below and check through cart. Once purchased, print out the final receipt and include it with coilover package to be shipped to Fortune Auto North America
Fortune Auto
1495 Oakbridge Terrace
Powhatan, VA 23139